Connect Your Stripe Account
Scheduling appointments with a fee is now possible through Stripe.
Go to My Profile

Select Accept Payments

Enter your Stripe Publishable and Secret keys - click here to find your keys

Click Save

You can disconnect from your Stripe account at any time by clicking the Clear button.



Need a Stripe account?
Click here to register
.
How to Apply Payments to Appointments

Once your Stripe account is connected, you will now have access to a new
Fees
field when creating New or Existing appointments.
Go to your Calendar

Click New Appointment

Add your Patient as a participant and note the new Fees column to the right.

Add the amount you wish to bill

Click Schedule

Your patient will receive a new email invitation along with details about their Invoice.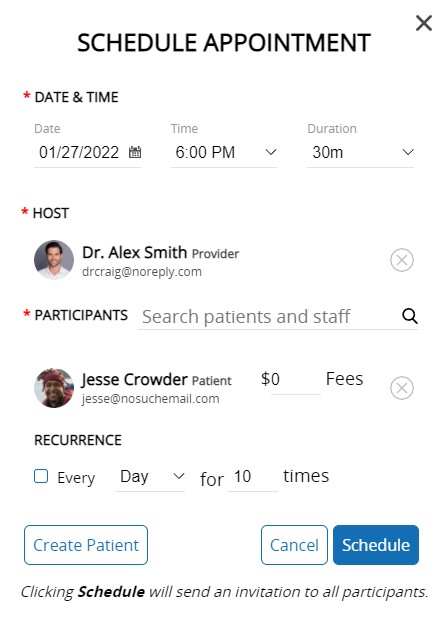 Next time your patient signs in, they can make their payment by clicking Pay Now and entering their credit card number.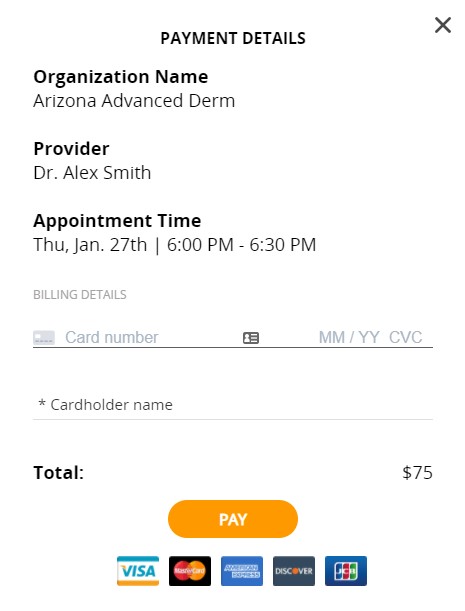 Fee amounts are limited to a maximum of $999.99, per session. Anything above that amount, please bill directly from your Stripe account or choose another form of invoice option.

Payment Settings are only available to the Clinic Admin. Once connected, all appointment payments will go to the connected Stripe account for the entire Clinic.

You may remove permissions from a Staff member if you don't want them to schedule appointments with fees.
Related Articles

Getting Started Guides - HIPAA Video

UPDATED AS OF 3/11/2022 Our Getting Started guides are here to help you and your practice with step-by-step instructions for Beginners. We offer individual guides for each type of User: New Accounts (ClinicAdmin), Patients, and Staff. Click the ...

How many licenses can I add to my account?

You can add any number of Provider licenses to your account. There is no limit to how many licenses you can purchase, per account. When signing up for a FREE trial, you are assigned one (1) Provider license to test out our platform for 14-days. When ...

Will I be charged for HIPAA Video after my 14-Day free expires?

No. HIPAAVIDEO.NET will NOT ask you to enter your credit card information when you register for your 14-day free trial. ​ After the trial expires, you will continue to have access to your account, but the ability to schedule and start visits will be ...

How do I become a HIPAA Video paid subscriber after my free trial expires?

Log in to your account and go to the Users tab. Click the Staff tab and click the Add Licenses button. Select the number of licenses you wish to purchase, then click Continue Enter your Credit Card information to complete the transaction.

How do I increase the number of licenses in my account?

To increase the number of licenses on your account: Go to the Users tab Click the Staff tab Then, click the Add licenses button Change the number of licenses you wish to purchase, click Continue Fill out the payment information to complete the ...